ANALOG PORTABLE > MOTOROLA - EX500

EX500
Expert Series Portable Two-Way Radio
| | |
| --- | --- |
| EX500 | The Motorola EX500™ portable two-way radio delivers the advanced, efficient two-way communication you need to stay well connected. With less than 10 ounces packed into a small, compact design, this lightweight radio fits easily into the palm of your hand. Precision-controlled signaling provides an extensive range of calling options, helps you to maximize productivity and get the job done. |
EX500
PORTABLE TWO-WAY RADIO


Available in VHF and UHF

Operates on Conventional Systems
Practicality and Power

Ideal for high-level professionals who want powerful yet streamlined communication tools, the compact Motorola EX500 portable radio has what it takes to make all the right connections. Its sleek, ergonomic design makes this Expert Series radio easy to hold and carry–and it's so lightweight you can take it virtually anywhere. The Motorola EX500 radio's exceptional features deliver solid functionality and remarkable ease-of-use. Flexible scanning and monitoring capabilities allow you to stay on top of critical transmissions. Three programmable buttons and a range of signaling capabilities offer the tools you require to communicate steadily and efficiently. With the Motorola EX500 radio, you'll have everything you need to perform at your best.
§ 16 Channels

§ Programmable Emergency Button

Dedicated button that sounds alarm or alerts dispatcher in urgent situations

§ X-Pand™ Audio Enhancement

Clearer, crisper audio quality

§ 3 Programmable Buttons

Immediate access to your favorite features




· Adjustable Power Levels
Help optimize coverage and battery life

· Priority Channel Scan
Program radio to more frequently scans transmissions on your most important
channel, to help ensure you don't miss critical calls.

· Monitor/Permanent Monitor
Quickly and easily monitor a specific channel at the touch of a button

· Repeater/Talk-around
Unit-to-unit communication allows radio to bypass the repeater when necessary,
to help ensure continuous radio contact





§ Quik Call II™ and MDC1200 Signaling
Send and receive information in a variety of ways, including:




· Push-to-Talk ID (Encode)
Identifies your outgoing calls on other users' radios

· Selective Call (Decode)
Lets you receive a specific group or individual call

· Call Alert (Decode)
Notifies you of incoming calls when you're a short distance
away from your radio

· Radio Check (Decode)
Tells others whether your radio is activated

· Emergency (Encode)
Sounds an alarm or alerts dispatcher in urgent situations

· Selective Radio Inhibit (Decode)
Allows system owner to disable stolen or missing radios





§ Internal VOX

Voice-operated transmission capability with optional headset allows
hands-free operation



Comfortable, ergonomic design

Light weight makes radios easy to hold and carry.


Audio enhancement

Reduces background noise and improves sound quality.


Scanning capabilities

Secures your ability to receive every transmission.


Versatile accessories

Allows users to customize radios as business evolves.


Voice-operated transmission

Enables hands-free operation with optional headset.


Programmable emergency button

Sounds alarm or alerts dispatcher in urgent situations.



NAE6483AR - 403-523 Wideband UHF Flexible Whip Antenna

PMAE4002 - UHF Stubby Antenna

JMNN4024 - 1300 mAh LiIon battery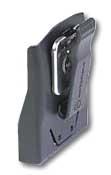 JMZN4023A - Plastic Carry Holster
AAHTN3000 - Single-unit Rapid-rate Charger
COPYRIGHT © State Communications, Inc.